Original article posted on Florida Realtors
By David Lyons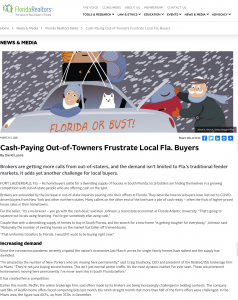 Brokers are getting more calls from out-of-staters, and the demand isn't limited to Fla.'s traditional feeder markets. It adds yet another challenge for local buyers.
FORT LAUDERDALE, Fla. – As homebuyers jostle for a dwindling supply of houses in South Florida, local bidders are finding themselves in a growing competition with out-of-state people who are offering cash on the spot.
Brokers are astounded by the increase in out-of-state inquiries pouring into their offices in Florida. They describe how local buyers have lost out to COVID-driven buyers from New York and other northern states. Many callers on the other end of the line have a pile of cash ready – often the fruit of higher-priced house sales in their hometowns.
For the seller, "it's a no-brainer – you go with the cash deal," said Ken Johnson, a real estate economist at Florida Atlantic University. "That's going to squeeze out locals using financing. You've got somebody else using cash."